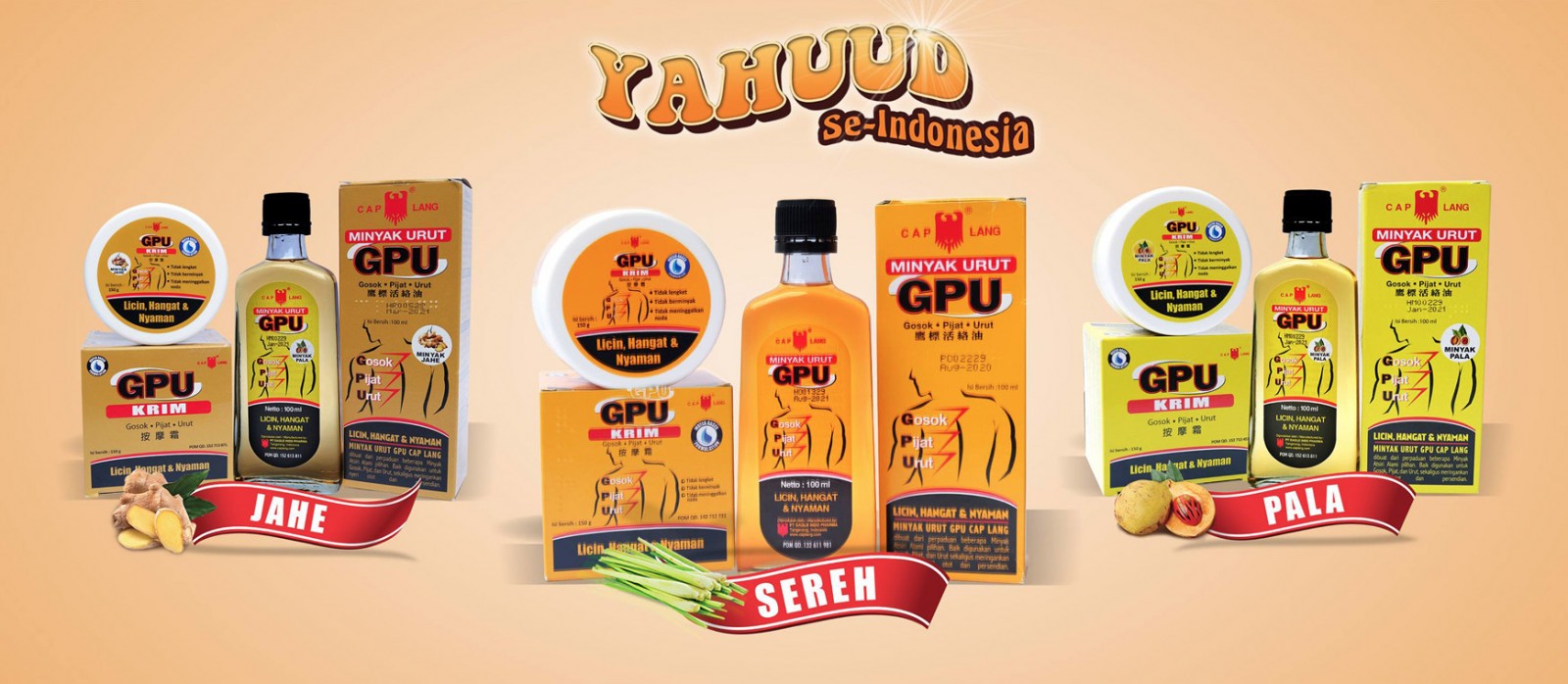 Composition
GPU KRIM JAHE
GPU KRIM SEREH
GPU KRIM PALA

Methyl Salicylate 5.00%
Camphor 2.00%
Ginger oil 1.50%
Menthol 1.00%
Eucalyptus oil 0.50%
Olive oil 4.65%
Base Ad 100.00%

Methyl Salicylate 5.00%
Camphor 2.00%
Citronella oil 1.50%
Menthol 1.00%
Eucalyptus oil 0.50%
Olive oil 4.65%
Base Ad 100.00%
Methyl Salicylate 5.00%
Camphor 2.00%
Nutmeg Oil 1.50%
Menthol 1.00%
Eucalyptus oil 0.50%
Olive oil 4.65%
Base Ad 100.00%
Indication
GPU CREAM WITH GINGER OIL
Contains Ginger Oil, which is beneficial to improve blood circulation, reduce colds, ease muscle and joint pains, and acts as carminative, i.e. to soothe bloated stomach.
GPU CREAM WITH CITRONELLA OIL
Contains Citronella Oil, which is useful to ease fatigue and aching, joint pains, sprains, back pains and pains due to rheumatism, and prevent mosquito bites. For some people, citronella oil can also serve as aromatherapy.
GPU CREAM WITH NUTMEG OIL
The content of Nutmeg Oil is beneficial to ease fatigue and aching, rheumatic symptoms, and joint pains. The nutmeg aroma can also help to relieve stress and relax by stretching tense nerves.
Information
GPU Cream is the first cream for massage or kneading. It has special non-sticky, non-oily and non-staining formula. As it is sufficiently slippery and easily absorbed by skin, GPU Cream is really suitable for people who want a different GPU massage sensation. GPU Cream has 3 distinctive aroma choices, i.e. ginger, citronella, and nutmeg oil, and the Cream is useful to relieve fatigue and aching, muscle pains, low back pains, sprains, bruises, and promote blood circulation. GPU Cream is available in 3 sizes, i.e. 60 gram, 150 gram and 250 gram.
Registration Number: POM QD 142 712 731
Volume
| Size | Dimension per Carton | Content per Carton | Gross Weight | Volume |
| --- | --- | --- | --- | --- |
| 60 gt | 394 x 263 x 240 (mm) | 12 dozens | 8.64 kg | 0.025 m3 |
| 150 gr | 445 x 315 x 245 (mm) | 6 dozens | 14.52 kg | 0.034 m3 |
| 250 gr | 360 x 275 x 260 (mm) | 3 dozens | 11.63 kg | 0.026 m3 |